Wow I haven't updated in a week, thats a first. Noting really interesting has happened.
Half term!! Yaaaay!
It's gotten off to a bad start though because I was supposed to be going up to London to see peeps and then see Hibiscgyaru and go to the MCM expo but I woke up this morning and felt like I was going to die so I to call off my plans -_-. I really really looking forward to meeting Hib D= I had my outfit planned n everything ARAXJHAX fucking England and it's shitty viruses. Hopefully I'll be better for tomorrow so I can see them then... but I doubt it -_-
I ordered some Candy Doll lenses on the 4th and FINALLY got them about 3 days!
[I thought it would be appropriate to cover my face with a swine-flu mask because 1) I look like a tard and 2) swine flu?]
So what do you guys think? When I first put these in, I thought I looked like a cat XD
I need to practice some eyemakeup that lengthens my eyes so they look less buggish and round.
Yesterday, I handed in my first piece of fashion coursework x_x. Everyone's was amazing in comparison to mine! I am determined to do better now, there's some incredibly talented people in my class.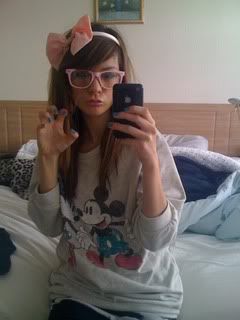 Everyone dresses up like woah 4 college <3
Ma KYAT, Chichi <3