These last couple of sicky days have been filled with little fashes of awesomeness =D
Yesterday, me and my mother decided to venture into TK Maxx, or as you Yanks all it, TJ Maxx, to see if we could get lucky!
I was rummaging through the hoards of animal print jackets and pulled out this particularly cute dalmatian print waistcoat, I went to check the lable for the price and got the shock of my life when it said; me Jane.
I literally shouted out loud, OH MY GOD MUM, ITS A ME JANE JACKET. Obviously my mother was confused and just looked at me weirdly.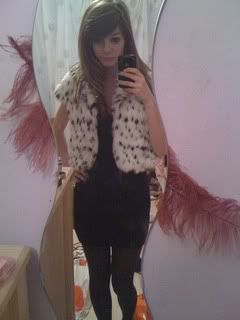 Lol at my smudged eye-makeup and deceiving mirror making my legs look stumpy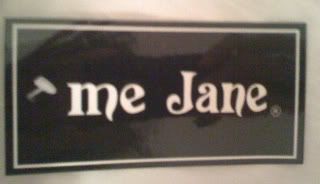 LOLWHUT!?
Srsly tho gaiz, do you know what this means? If TK Maxx is stocking me Jane jackets then there has to be a place in England somewhere that sells Me Jane clothes.... 0_0 I think I just found a new mission.
♥ ♥
And And And today I was randomly flicking through my weird foreign TV satelite (cus my relatives are turkish and they watch the turkish channels when they come over) and I just so happened to stumble across a Korean channel and what's the first thing I see, G-dragon' video for Breathe.
Me: KYAAAAAA!!!
Mum: *runs into living room* WHAT IS IT!?
Me: *points* I.....
LOVE
.....him! [g-dragon]
Mum: He looks gay
Me: WELL HE'S NOT ...(...ithink)
Mum: He will be...He looks like a girl
Me: BUTHESSOCUTE!!
Mum: Yes... a cute girlfriend
Me: HE CAN BE MY GIRLFRIEND.
AAANNND today I received an email from a girl called Mimi telling me that my website, the Gal Library has been featured on Laurent de Chiba's blog! I was rediculously happy My little baby site, I'm so proud! =D I love his blog, I check it every day! He also uploads alot of Parapara DVDs so please check him out.
For any of you who haven't read his blog,
laurentdechiba.skyrock.com/
(it's french but meh)
and for those who haven't seen my site yet, please check out
www.gyaru.startje.com
!
I update it almost every day with new Gal related links e.g brands, foreign Gals, style help, trends, circles etc.~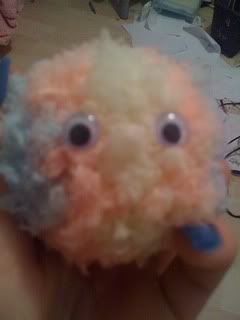 Um... this is Pedro, he is, according to a friend, a gay jewish hermaphrodite.
Isn't he cute? I'm hoping to make more smaller ones so I can attatched them to hairbands <3
Peace out kiddies; look after yourselves in this crappy flu season xx